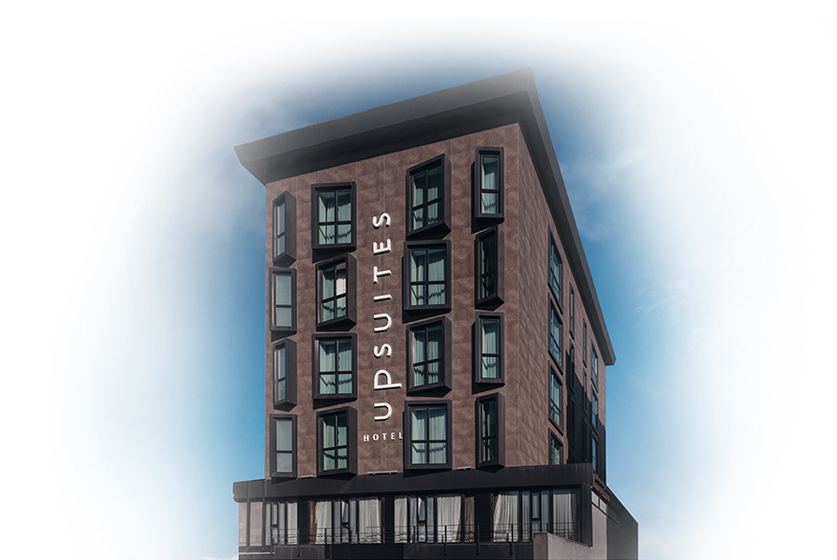 ABOUT US
UP YOUR EXPECTATIONS UPSUITES HOTEL promises you a new generation and special hotel concept. 29 spaciously and graciously designed suite rooms, experienced and welcoming staff, and comprehensive hotel services are waiting for you at UPSUITES HOTEL to offer you the comfort and elegance you are used to. Located at the heart of business and city life of Levent-Zincirlikuyu neighborhood, UPSUITES HOTES is in the middle of shopping, culture, art and business centers. With the options to book short-term and long-term stays, UPSUITES HOTEL promises you an unforgettable experience with its ideal location.
details
Our Location
UPSUITES HOTEL offers not only a unique accommodation experience, but also a special location where you can experience real Istanbul. Istanbul's most exclusive shopping malls, art galleries, concert venues, restaurants, nightclubs and much more are within walking distance from UPSUITES HOTEL.
UPSUITES HOTEL is located at the intersection of public and private transportation, which enables our guests to reach all neighborhoods of Istanbul in a very short time.
Shopping Centers Within Walking Distance
Zorlu Center
Kanyon
Metrocity
Özdilek Park
Astoria
Cevahir AVM
Akmerkez
Profilo AVM
Saphire
Trump Tower Mall
Arts and Culture Centers Within Walking Distance
Zorlu PSM
DOT Canyon
Profilo Cultural Center
İstanbul Art Gallery
Cevahir Stage
Artı Stage
Trump Cultural Center
Transportation Within Walking Distance
Metro Station
Metrobüs Center Station
Bus Lines
Minibus Services
Islands and Bosphorus Motor Ferries
OUR HOTEL
Located at the heart of business and city life - Levent-Zincirlikuyu neighborhood - UPSUITES HOTEL offers our guests a unique stay with short-term and long-term booking options. You can relax in our comfortable, spacious and thoughtfully designed suite rooms while enjoying the rhythm of the city with our perfect location.
COMMENTS
Comfortable The room was spacious and clean. Very good breakfast is offered. The staff is very friendly. We enjoyed our stay at Upsuites Hotel. Nothing to complain.

AIZEL
Everything seemed New and Clean. Great location.
EMMANOUİL SOUMELİDİS , (GR)
Very nice design and good location Wondarful staff.

ABATHER
great hotel Hotel staff is very helpful! The room was big, bright and comfy! For our business trip the hotel was excellent and very helpful, fulfilling our needs.

ANA DATUKİSHVİLİ /GÜRCİSTAN